A GRAND DAY OUT:

DAY TRIPS ABROAD
Do we really have a "Grand Day Out" anymore?

Everywhere is so accessible, that even if we go to a zoo, a theme park, or a museum in a city centre, is it really a "grand day out" as in our youth?

Perhaps we should work towards that again, making just a day out into a holiday.
Travel can be a tricky thing, especially when you're young, or you have children, or are perhaps older and the insurance is expensive.

Yet something we talk about a lot with regards to Travel Trends is the need, and the want, to travel.

I think we can all agree, you get so much out of it, young or old.

Your best memories, best photos are from holidays and days out.
With the Summer Holidays upon us, we have decided to do a series of Blog posts based on a "Grand Day Out", some at home, some away, some educational, some just for fun, but the point is, not everyone can afford to go away on an actual holiday, and these can be done with parents, grandparents and friends.
Today we're discussing Day Trips Abroad as a Travel Trend.
Now, this Travel Trend is only really achievable if you live a reasonable distance from a port or the Eurostar otherwise it's a day's travel to get there.

We're talking about getting up early, getting to the destination, spending a culture-soaked travel-themed day, and coming home to sleep in your own bed.

In our opinion, there was never a "grander day out" than to go abroad for the day.

With the Summer Holidays upon us, let's have a look at some fresh ideas for those with kids, those with bigger kids and those on a budget:
In the UK we have various ferry ports such as Dover, Folkstone, Plymouth, Portsmouth, Hull, Harwich the list goes on, all taking us to France, Holland and Spain.

However for the interests of the article and the fact that should one be attempting a day trip, we need to look at the shortest crossings possible.

One such short crossing is the famous Dover-Calais taking an hour and a half and costing around £127 for a car and three people in peak season.
In our opinion the ferry helps towards a "grand day out" as it really is part of the fun.

Unless you get seasick.

Then it's really not fun for anyone involved.

If you're not, however, and if you have kids, they get so much out of it:

watching the white cliffs of Dover disappear, having breakfast on the ferry, poking around the amusements and on-board and even making use of the kids club…Then very shortly, you're there!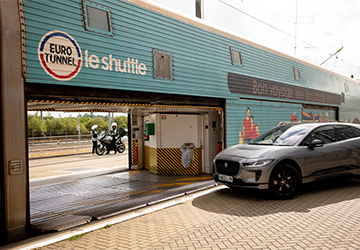 Covered in our last Blog post, the Eurotunnel is an excellent and stress free (provided the car in front doesn't break down) way to get to the Continent very quickly.

It's also the cheapest, at roughly £80 per car in the Summer holidays.
What to do once you're there
You'll have the car (don't forget to check international insurance and breakdown cover – most insurance companies cover you for up to 30 days anyway) as there's not a great deal to do in Calais itself (until you come back for supper, that is) make the most of it, and head out of Calais on the coast road towards Sangatte (it's worth stopping at the cheese shop (La Maison du Fromage et des Vins) and boulangerie at the top of town to get provisions for lunch) and follow it through Wissant and Wimereux (both worth a visit) towards Boulogne.

Boulogne is ever so pretty and utterly worth a visit.

Spend a pleasant day in Boulogne, then tootle back to Calais, stopping at Le Channel for supper.

THE BEST seafood, ever!

Job done, wonderful time had by all.
If you prefer to go car-free for the day, and you live near enough to a Eurostar station, then perhaps the most stress free mode of transport for a day abroad is the Eurostar.

Departing from either St Pancras in London, Ebbsfleet in Eessex or Ashford in Kent, this is one of the most fun ways to get to the Continent for all the family.
One of the huge benefits of the Eurostar is that it takes you right to where you (may) want to be.

You have a choice of direct trains to Paris Gare du Nord, Amsterdam, Brussels or Disneyland Paris.
For example, if you wanted to depart from Ashford to Paris GDN in the Summer holidays, you're looking at about £178 each return.

Not as cheap an option as the other two, but it does get you right into Paris, with no car etc to worry about.

Book in advance for September and you'll get a return ticket for £78…a bit like flights, unfortunately.
It's hugely fun, as well, and takes about 2 ¾ hours to get there.
We would advise, unless you're going to Disney, perhaps this is a trip for older children, who'll enjoy the sights of Paris for a day more than little ones.
What to do once you're there
Well, where do we start?!

The Eiffel Tower?

Le Louvre?

Musee d'Orsay?

Arc de Triomphe?

Sacre-Coeur?

Tuileries?

Poor, dear, Notre Damme?

A ride on a Bateau Mouche?

Of course, you can't go to Paris and not walk down the Champs Elysees and stop at Fouquet's for a champagne cocktail…but chacun a son gout and all that.

Actually, one of the things we definitely recommend, even though it's ever so touristy, is to take one the open-top bus tours.

Even if you're a Paris veteran, you'll learn something:

it's fascinating.
Not far from Folkstone or Ashford is a little airport called Lydd.

There you can board a teeny tiny plane which will take you to Le Touquet in 15 minutes!

There are probably many other flights you can take from other small airports, but having personal knowledge of this one, we can recommend it on the basis of how much fun it is!

Of course, if you want to keep it stress free, we would suggest just staying in Le Touquet wherein there's plenty to do, rather than hiring a car, but it is such fun, and you can even book a Champagne Flight if you want. For prices, you'll need to give them a ring.
What to do once you're there
Le Touquet is just gorgeous.

Once quite the place to "see and be seen" for rich Parisians, indeed it's called Le Touquet Paris Plage, and you can see from the architecture that it's something special.

It has a lovely beach and beachfront to walk along, some gorgeous shops and restaurants in line with its Parisian requirements, and a lovely atmosphere.

All in all, you'll thoroughly enjoy it.

Were you to be tempted to stay the night, which isn't what this Blog post is about, but just for a really good recommendation, got to the Grand Hotel Le Touquet...it's top class!
There are, of course, many more routes you can take.

If you live in North Wales, you can take the ferry to Dublin for the day from Holyhead on Anglesey.

Or if you're further down, you can go from Fishguard to Rosslare.

The list is long, and it's well worth looking into to see where you can go to from your nearest port!